Pentecost by El Greco
Hong Kong has been a lot in the news lately. In more peaceful times, a visit to the beautiful Kowloon Walled City Park would usually be on most tourist agendas. It contains eight themed gardens and stretches over 7.66 acres of land in all. 'Beauty', however, is not the first word that would be used to describe the park's tortured history. For centuries, the Walled City served as a military stronghold. Between 1950-70, having been left out of the treaty between Britain and China, it became effectively lawless, ruled only by the warring triads. It's local name 'City of Darkness', was true both literally and metaphorically. Makeshift buildings stacked dangerously on top of each other prevented any light from reaching the streets overrun with rats and open sewers. It was a place of extreme poverty. Young girls were sold as freely as drugs and all problems solved by violence.
It was in this stronghold of the Evil One, however, that God established a place of healing and sanctuary, through a very unlikely missionary from Croydon, UK. The story of Jackie Pullinger, called by some as the Mother Teresa of Hong Kong, is recounted in the book, Chasing the Dragon. Pullinger was raised in a nominally Protestant Christian family (who went to Church for Christmas and Easter). She came to a deeper faith in university through some Christians, whom she found surprisingly, joyful in their faith. After graduation, she kept feeling called by God to 'go' – except she had no idea where. Finally, in 1966, at the age of 22, she boarded a ship that was sailing across the world, with nothing but £10 in her pocket and a prayer to God to show her where she was to disembark. Eight ports later, she disembarked in Hong Kong and made her home in the Walled City. Over time, the people began to trust her as someone who loved them, and they started to trust her God too. She prayed for the drug addicts and time and again, they came to faith, started speaking in tongues, prophesying and coming out of addiction without withdrawal. Addicts, prostitutes, gang members all started coming to faith and finding a home with Pullinger. When the Walled City was torn down, the government recognised her work, acknowledging it in a plaque in the park and gave her new land to continue her mission.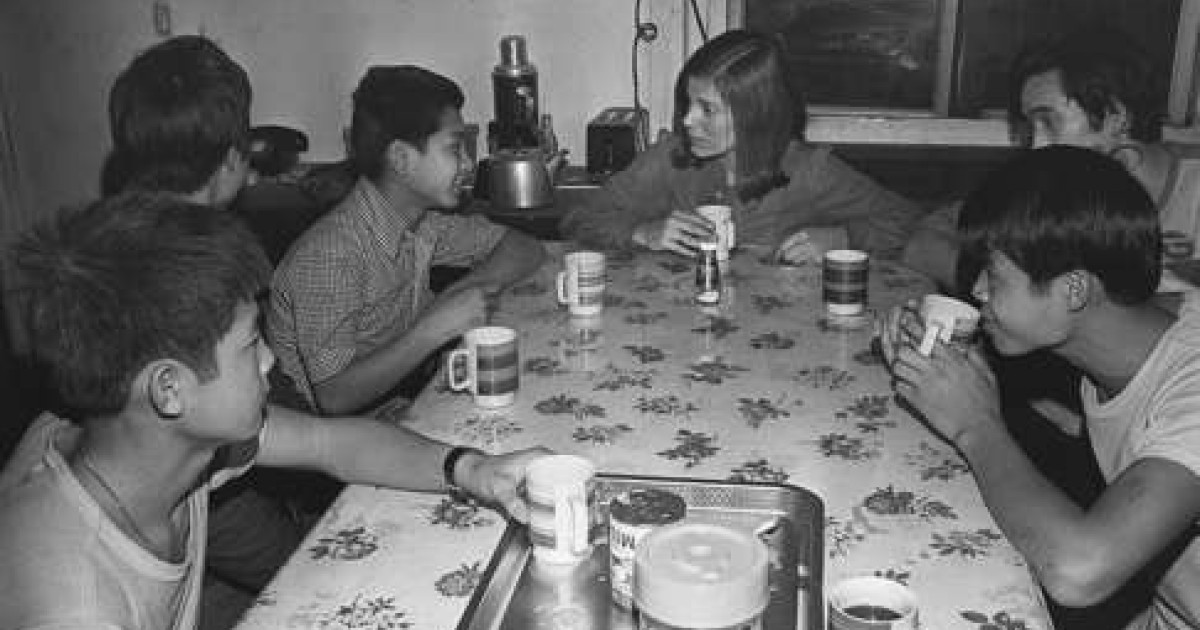 I'm thinking of Pullinger's story today because it is paradigmatic of the Pentecost experience. Pentecost is about mission. At the first Pentecost, we find the miracle the Spirit works in the lives of the apostles huddled together in fear in the Upper Room. They were not models of holiness at this time. Peter had denied Jesus. All of them had run away during the Passion. They did not always get along, constantly in competition about who was the greatest. But the coming of the Spirit transforms them. Suddenly, they stand united, happily under the leadership of Peter. The Spirit brings about unity, because the Spirit is the Love of God in person. And he naturally impels one to reach out to those outside. Peter, with no training, boldly stands and preaches – authoritatively, from the Scriptures, explaining what was happening to them. The divided nations hear his preaching in their own language and their lives are changed. The apostles find that as they step out, the Spirit has equipped them with all they need. What happens in a few hours at Pentecost is a model for the way the Spirit works in all our lives, should we let him. Sometimes these things happen immediately, sometimes they stretch over a lifetime. And in Pullinger's story, we can see all of these elements repeated.
She was very ordinary in her life of faith. She had encountered Christ more deeply only for a very short time before simply 'going' in obedience to God. Fortunately, for her, no one had managed to tell her that God would not work with sinful or even ordinary people; she heard God calling her and she obeyed. And she found that God equipped her, with gifts both natural and supernatural, as she went. In the Spirit causing people to hear the apostles in their own language, they knew they were accepted, they weren't foreigners. In Pullinger's case, this took longer. Before she could speak their language, it was her love and care for people that demonstrated to them that she was one of them. As they trusted her, she became their bridge to God. They were set free and became instruments of the Spirit themselves.
As Catholics, we are of course, no strangers to such missionary stories from the Tradition. We can instantly recognise several such elements from the lives of saints like Benedict of Nursia, Francis of Assisi, Anthony of Padua, Don Bosco, the Cure de Ars or Mother Teresa, to name just a few. For many of them, miracles were simply a way of life.They went into godless neighbourhoods, faced impossible hurdles and brought (and continue to bring) multitudes for Christ. All their stories indicate common characteristics of a life touched by the Holy Spirit. Let me pick just four.
A new heart: This is one of the oldest promises that God made to Israel. To remove their hearts of stone and give them hearts of flesh. We read it as part of the extended vigil of Pentecost. The hearts of stone meant that they could neither keep God's commands or love even their own. Jesus summarises both in his new commandment, to love each other. It is not the holy who are called, those who are called are made holy by the Spirit. The Holy Spirit brings healing. He starts to break down our inability to love. He brings us in relationship with others, caring where we did not before.
Mission: A transformed heart naturally moves us to serve; whether be it dramatically, like Pullinger or by being attentive to those around us in ways we could not have cared before. Mission and service are natural effects of the Spirit.
Joy: The first of the fruits of the Spirit, after love itself, is joy. A life touched by the Spirit is marked with joy. The people thought that the apostles were drunk. Whatever adjectives might be used to describe drunk people, misery is usually not one of them – at least not when the spirit is high. Pullinger speaks of this in her own experience; walking into the terrible hell-hole that was the walled city, she describes an incredible joy, being where she was supposed to be. Only joyful Christians can be effective missionaries.
Power: God doesn't necessarily call the qualified, he qualifies the called. Pullinger did not have any experience in the mission field or in being an active Christian for long, but found that she had all she needed when she needed it. Speaking in tongues for her was not an option, it was essential for her and her team. They took care of addicts by constantly praying for and with them, and to pray in your own language for four hours or so is very difficult, as she says. At the service of love, in ministering to those who needed it, they found that the Spirit was always ready at hand. These are gifts that are available for us, for our everyday lives. God has no favourites.
such extraordinary manifestations of the power of the Spirit were seen only in a few individuals at each time. God is however, doing something very new in our own times. The explosion of the new movements, especially post-Vatican II, is but one sign of the new work of the Spirit, prompting some to call it, the century of the Holy Spirit. If there is one thing that they and Pullinger's story can teach us it is this –
Pentecost is not for a 'holy' few. It is for everyone. Whatever your state. Whatever your past. Whatever your excuse. If you ask, God will baptise you afresh with his Holy Spirit.

Tweet
When the Spirit comes, your life can be changed. And God can change the world through you. Veni, Creator Spiritus. Come, Creator Spirit.